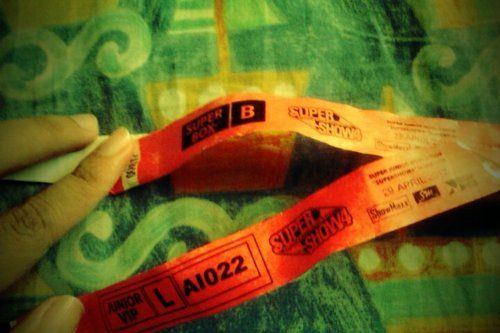 The show is finally over in such a grand way. Yes, the last day of Super Show 4 Indonesia has ended, and it leaves me with mixed emotion. It's given me such beautiful and touching memories. I can still recall our feelings when the rumour of the show spread out. We were extremely nervous and excited. Also during the chaotic ticket selling day which basically drained out our energy, anger and tears. Somehow all of these will be memorable.
On day 3 of SS4 INA, my friends and I bought the Junior VIP tribune tickets. If in Super Box we could happily witness Super Junior frolicking around right in front of us, this time we could see almost the whole stage. Note the word 'almost' since we couldn't see the boys when they were moving to the frontest part of stage. However, from our position the magnificent big screen and lighting were clearly seen, which gave me a big awe.
If the first day was full of joy and happiness, the finale was more moving for me, knowing that the curtain would be closed and the magical weekend would end soon. The boys were still playful as ever, but in several occasions you could see how they were touched by the warm appreciation from the crowd. It was obvious how
Eunhyuk
and
Shindong
were trying to hold back their tears.
Sungmin
, whom we know rarely showed his tears, seemed a bit teary-eyed. He even wrote in his cy-world how he was crying in his room :')
The security was even stricter during the last day so I didn't get any picture of the show. These are the highlights of the show though:
-
Rokkugo
was fun as always. Hearing the intro already made us excited, and the boys never fail to entertain us with this number :D
-
Our Love
was probably the most touching (see, I use this word a lot to describe the finale!) one during the whole performance. When the blue balloons and the confettis fell down from the ceiling, it's just a wonderful sight to behold and there's this wonderful emotion to feel.
-
Oppa Oppa
will forever makes me wanna move my body and go to the dance floor hahaha. Each day EunHae wore different suits, and on the last day they were wearing the signature mustard and ketchup suit :D
-
Wookie
was laughing during his solo! When the female dancer was standing in front of him, he just couldn't surpress his laughter and almost didn't sing his lyrics. Hahaha, this cute boy :D
- Somebody threw a monkey mask to the stage. I think it was Hae who wore it and tried to kiss Wookie with it. Or was it Siwon who wore it? Correct me if I'm wrong :) Another funny thing is when Shindong took Lee Soo Man's banner from the audience hahahaha.
-
Teukie
took a very long bow after the show. To be honest, I almost shed tears watching that, knowing that he will enlist in military service this year. I bet many ELFs were feeling the same way too. Our hysterical leader, we <3 you!
- During that famous pocket-shaking choreography in
History
, the camera really focused on EXO-M's pockets it made me giggle for no clear reason hahaha.
- At the end of the show, they were playing with the water fountain. Yesung didn't want to at first, pretending to be sick, but then the others successfully forced him hahaha. Everyone got wet in the end! SJ even splashed water to EXO-M boys. Speaking of it, the crowd still sang and turned on the lighsticks during EXO-M's performance. There was only a tiny number of them who turned if off. You guys didn't matter, booooo :p
Writing down this entry has made me emotional a bit. Just can't help it hahaha. Once again, thank you for this happy feeling you've shared to us, SJ. We'll never forget it, and do come back soon! Big thanks also goes to
Relawan Konser
. It was such a hella fun experience watching Super Show with you all. Huge love to each of you! <3
More gigs to come for me: MBLAQ in June and The Stone Roses in July in Singapore. Junsu from JYJ will also have his solo concert here although there isn't any confirmation from the promotor. Crossing my fingers for that! ;)