Last Thursday I got a very special chance to attend Han Geng's press conference in Djakarta Theatre. Yes, you read it right,
HAN GENG
. And my heart basically screamed OMG GENG IS ONLY TWO METERS AWAY FROM ME! Invited by
Indovision
and
Celestial Movie
, Geng came to Indonesia to promote his debut film
My Kingdom
, the review can be read in my previous entry, and I got this opportunity to join the press conference after winning a competition from
Jagoan Film Asia
's FB account. You have to know that when I got the news that I won, I almost burst into tears (or maybe I did) :p Geng is one of my biases in
Super Junior
and I thought I wouldn't be able to see him because his TV appearance was due in the morning and I had a teaching schedule. But thank God I won the contest after composing boot-licking words to praise his appearance in the movie hahaha.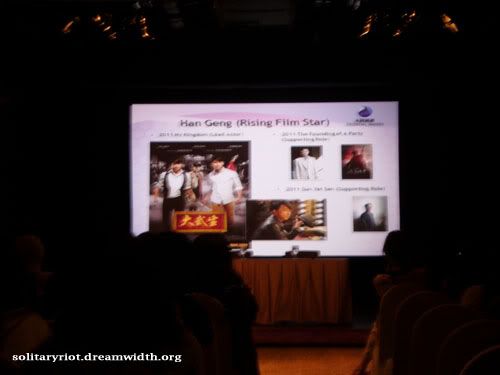 On the day of press conference, I was so nervous I couldn't have my lunch! I know it sounds really silly but that's what I felt xD After finishing three classes, I immediately took a cab to Plaza Indonesia to meet my sister and Pia. Both of them were present at a TV show in which Geng was interviewed and saw with their own eyes how one host was being impolite to Geng. Due to that, it was said that Geng was annoyed and requested to be interviewed in a private room. I didn't watch the TV show so I don't know exactly what happened, but if Geng (who's famous as being sweet and nice) was sulking, wow, the host must have acted really inappropriately! Also, because of that incident, the management decided not to have a special meet and greet with the winners. Disappointed? You bet I was! Thanks to you, the ill-mannered host!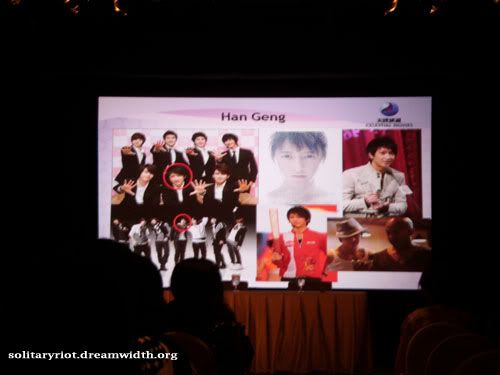 However, we're still allowed to attend the press conference and I still had to be thankful for that precious chance. When we arrived at the venue, it was still quite empty. I didn't see many fans around. Yet when we went upstairs to the lounge, my student who also came said that the parking lot was already full of Geng's fans! I could imagine how chaotic it was! What scared me was that instead of supporting Geng as an actor and a solo singer, they would come and bring Super Junior's attributes. And yes, some of them did that (even Hanchul's attributes? Tsk!). Well, what could I do? :(
Now let's get back to the most important business, which was Geng's press conference! When Geng came into the room, I was astonished because he looked so simple yet so gorgeous with black suits and eye-glasses! These pics that I took didn't show his gorgeousness but he was, he was! He's not that tall, or maybe because I'm used to my little bro's height, but he has this slim-figure of a dancer, which made me go awwwww! And I kept on telling myself that this was the person I often saw on MVs, live performance and TV shows. NOW HE IS IN FRONT OF ME, DAMMIT. During the press conference, he smiled shyly but at the same time showed his professional confidence by looking at the eyes of each journalist who asked him a question. And oh my how he got this comforting and soft stare <3 (okay, this post is getting fan-girlish, can't help it LOL).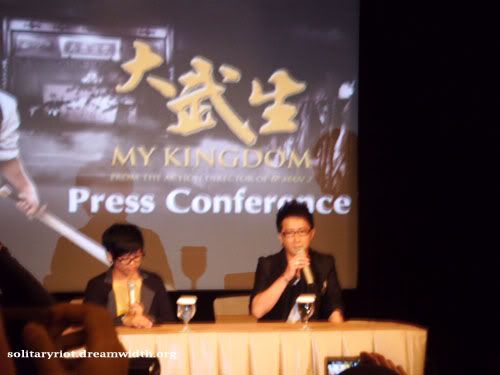 Before Geng came, the MC had told us to avoid questions about Super Junior because it's a sensitive topic. One TV journalist was stupid though or maybe she didn't hear the MC's warning, she STILL asked a question about Super Junior! The MC then told the translator that it's okay if Geng doesn't want to answer the question, yet Geng was being polite and didn't mind answering the question. I don't remember much what his answer is, but he said he had learned much from his previous group (he didn't mention the name). I guess that implies that after all he still thanked them, yes? So stop saying that he's forgotten Super Junior!
To show my support for his solo career, I brought along my Geng Xin DVD and there was one time when a journalist in front of me asked a question to Geng. Since Geng was looking at my direction, I lifted up the DVD above the journo's head so he could see it. And I guess HE SAW IT since there were some seconds when he looked over the journo's head. I do hope he saw it! <3 Well personally, and I might be attacked by some ELFs for having this opinion, I don't want him to come back to Super Junior. The reason is because Geng has this huge talent as a singer and an actor, and by being a solo artist, he has more space to develop his career. I fully support him for that!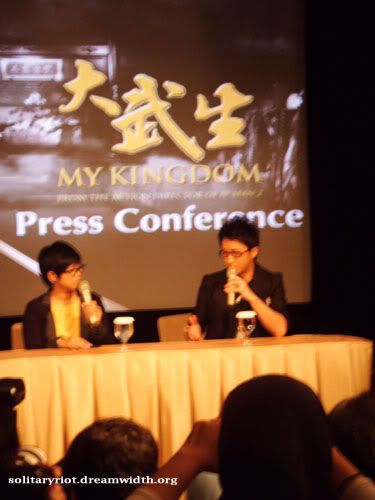 The press conference lasted for about 30 minutes, then after that there was a pop-quiz. The winners got My Kingdom poster and got a chance to take a picture of him and even got a hug argghhhh! I wasn't that lucky, boooo. But I dunno, maybe if I won and stood beside him, I might not be able to control myself. I'm afraid I might hurt Geng LOL. Another highlight of the presscon is when he said 'Aku cinta kamu' with his soft voice and I JUST WENT AWWWWW again. Actually it's kinda funny how during the presscon I was able to control myself, but after that, when I met Pia and Evi the magnae who were waiting outside, I went quite wild and even tweeted naughty naughty things xD Until now, when I watch the fan-cams and see the pics, it still feels surreal that there was a moment when Geng was right there in front of me. Han Geng himself, the man whom I admire for his talent, courage and kind heart :')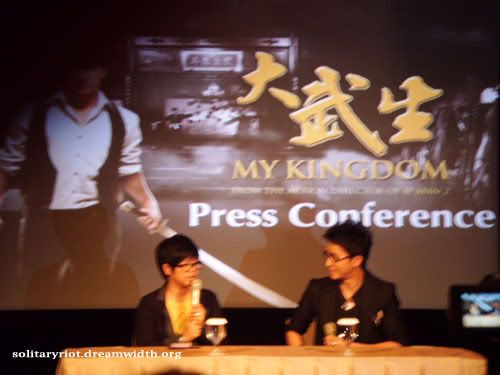 Good luck for your upcoming projects, Geng! You always have my support <3 <3 <3
Ps: huge thanks to my sis, Pia and Evi for the madness of the day *smooches*