solitaryriot
Took another impulsive decision and didn't regret anything at all! My initial plan was to watch
Super Show 4 Indonesia
only on Sunday, which is the last day, but then a special offer came so I finally watched the first day! WHAT CAN I SAY IT WAS JUST SUPERB. I could move on from my bad experience in SS3 VN and now I have an amazing experience and memories with
Super Junior
!
Luckily, my friends and I got Super Box ticket only for half price. What's even cooler we got the best spot so we could see the boys running around and waving in front of us! We even witnessed how sexy actually Kyu's butt is hahahaha. Oh, first about the venue. The venue (Mata Elang International Stadium) is located near Ancol beach, so we can comfortably hang around while waiting. Such a great place for music events, yes? :)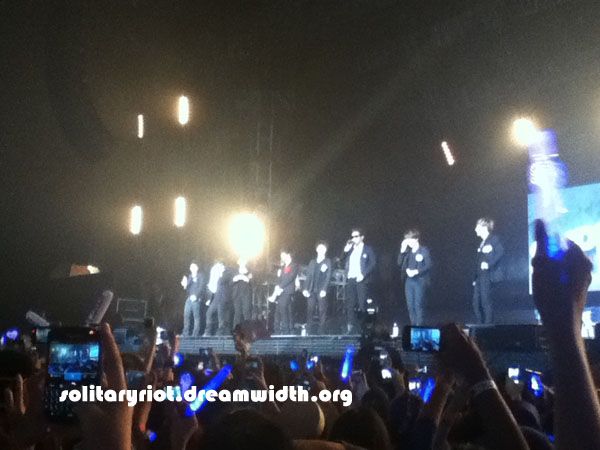 Okay I still can't think coherently there are many things in my head right now. I don't know where to start, honestly hahahaha.
The show started with
Superman
, which is a perfect choice. An epic song that made me shiver seeing the bluesticks glowing from all directions in the venue. And when the boys finally came out I screamed on the top of my lungs because they were so close I couldn't believe it! Next was
Opera
, arrrghhh I love it so much! The dance, the heavy beat and the moving stage, blended into one awesome performance. Absolutely one of my favs!
Bonamana
rock version was ohhhhsome too. It sounded a bit weird first to me, but then the boys just blew me away up up to the sky. They rocked for sure!
Another performance that made me fully dance was
Oppa Oppa
by Eunhyuk and Donghae. The venue turned into a disco party I enjoyed it to the max, yayyyy! :D During the song we could see how EunHae were very happy they kept slapping each other's face hahahaha.
(You see, I lost my ability to write in an organized way. I'm totally random! So let's just write it in list)
- We had a big laugh watching the Sound of Music part.
Siwon
as Captain Von Trapp was so sexy in that uniform *____*
-
Hae
was super dashing. He took one fan's cellphone and I don't know, he might be phoning someone or record his voice. A lucky fan indeed.
-
Kyu's
rendition of
Isn't She Lovely
was lovely <3 I like the part when Kyu in the screen was complaining why he sings ballad most of the times xD. And I don't get it why Kyu can be totally evil and we still love him that much!
-
Wookie
and
Sungmin
were cutie, cutie pies. When they were walking in front of me I could see their flawless skin. But Wookie as Gollum was just nasteeeh hahaha and Min as Marilyn Monroe was sensual (again, his flawless shoulder *sigh*)
-
Teukie
, our leader, sang
She
. I was afraid he might lose his breath and collapse because as we know, he's not that *cough*young*cough* and this guy often got too excited.
-
Shindong
had a solo dance performance to an Indonesian song by Vidi Aldiano. A nice one, methink :)
-
Yesung
as Chucky .... I lost words. The image suited him a lot hahaha. This boy does have an amazing voice though!
- When
EXO-M
suddenly appeared on stage I couldn't help myself x) I just squealed happily. What makes me so proud is there's no black ocean for them. We even sang to
History
. That's what respect is, kids, salute!
The blue baloons, the blue ocean, the happiness you have given to us, Super Junior! Thank you, thank you <3 <3 <3 Now I just can't wait for another ohsomazing experience on Sunday! :)
Ps: Haters now can eat their heart out. Super Junior were so nice to EXO-M boys, and EXO-M boys showed their big respect to their seniors. So why the unnecessary fandom wars?
Pssstt, here's a bonus :p