solitaryriot
After watching Korean Music Wave in Singapore last July, I told myself, 'Okay, I won't go to Singapore again this year. I should save my money for other countries.' But then ... one day when my friend and I were really bored, we decided to have a short trip, two days and one night only. We decided that the nearest place would be Singapore (not that Indonesian cities are boring but we were also looking for some things). So yeah, we finally went there last weekend. Yet this time we tried to plan things well by visiting new places and our destinations would be bookshops, coffee shops and stationary stores. It was a really short getaway but it was hella fun :)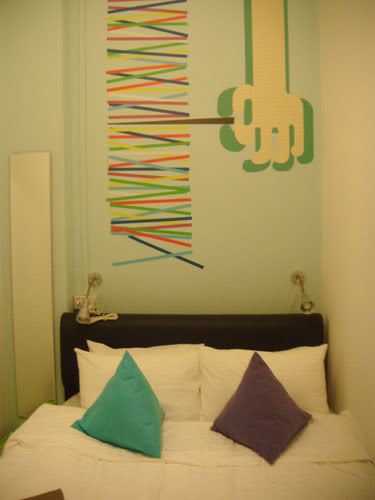 Our room. The wall decoration is inspired by a traditional game.
We stayed at a new hostel called
Five Stones
. Our bedroom was comfy and even though we had to use shared-bathrooms (my first experience), we didn't mind at all since they're so clean. The hostel staff were also really nice. They helped us quickly when we needed things or asked for some directions. Not to forget, with a smile~~. Not only it's cozy, the location of the hostel is strategic too: 10 minute-walking to Boat Quay and Raffles MRT station and 5 minute-walking to Clarke Quay station. Boat Quay is such a lovely place! I really enjoyed strolling around during the morning, just enjoying the friendly sunshine and waving at some ships passing by. I just love the river bank, I don't understand why Dickens often created it as a gloomy, creepy place.
Anyway, after checking in, we went straight to
Club Street
, which was only one MRT station away. Our main destination was actually
Books Actually
but then we just knew that they have moved :( Thankfully there were many other interesting places at Club Street and Ann Siang Hill. We visited this shop selling knick-knacks named
Little Drom Store
. The store was quite tiny, but I gotta say their tote bags, notebooks, pins etc are cute. The products mostly came from famous designers. I didn't buy any though, since the price was kinda expensive for my wallet. Another store that we entered was
Wood in Books
, which specializes in children's book stories. They also sell cute notebooks, bookmarkers and postcards. The last shop before we had some coffee at
Shots
was
Trolley
. The concept is similar to Little Drom Store although the stuffs aren't as fancy as LDS. I did buy something though, a cat strap for my mobile phone. Like what I've mentioned before, we had some drink at Shots. They don't sell too many choices of food and drinks, but the place is quite nice to hang out with your friends. Club Street isn't crowded, so sitting outside to have some coffee (or any other drink) is one of the best ways to enjoy the street.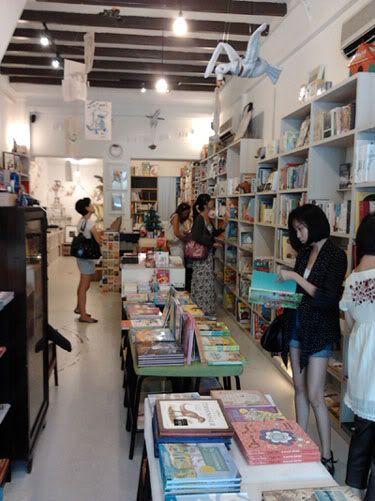 Wood in Books, pretty, yep?
Since the night was still young, we went to Orchard, particularly Kinokuniya and HMV. At Kinokuniya I grabbed some magazines (how could I say no to mags with TVXQ and Chunnie as the cover?!), and at HMV I bought some CDs for myself and for my friends. I was searching for
The Secret Code
but HMV didn't have it, so I bought the blue edition of
Tone
(so it means I have two editions of the album teehee).
The next day, we spent our morning walking around Boat Quay and taking lots of pictures. I'm glad the weather was really friendly during the weekend since our last trip to SG was nothing but rain all day long. We went to Takashimaya again because I had a plan to meet Harm, my Singaporean friend. We had known each other since 2002 but that's the first time we meet in person :D She's a nice person to talk to and she shared so many interesting stories about her life. Glad to have met you, Harm! We should hang out longer next time :D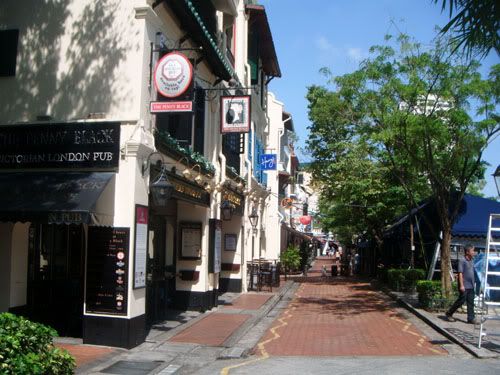 The view of Boat Quay.
Done with the rendezvous! Our next place to visit was
Cat Socrates
at Bras Basah Complex. And I'm sooooo in love with the store! I went kinda wild and bought some cute, lovely things like tote bags, small mirrors, and a necklace. I wish I had brought more money though, since the stuffs sold there are too precious to be missed! Cat Socrates is surely my new favourite place in town! If you like knick-knacks, that is one place you totally won't miss.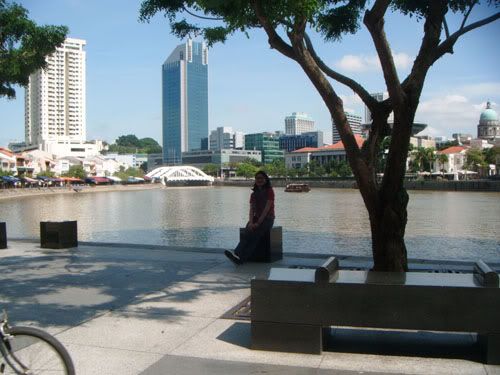 A sweet trip, indeed!
This short-trip was indeed refreshing. I got to visit places and hip spots I had never gone before, did new things and enjoyed the city in a new way. I'll fly there again to attend
TVXQ
's fanmeeting in early December. I just hope Singapore won't get bored of me :p So see you again with another update on, hopefully, TVXQ's fan party!