solitaryriot
I recently had a rendezvous with my college friends, and three of them asked me the same question, 'So, what's your upcoming trip plan?'. Wow, do I look like someone who travels a lot now? But yeah, now I can say I gain huge happiness from travelling, very different with my old-homey-self. Every trip plan (including to watch a gig abroad) always gets me really excited and gives me more spirit to work harder. And at the moment, I don't have any trip ahead so life is kinda dull. Boo.
So what kind of traveller am I? The word traveller is somehow identical with adventure, right, and I don't think I enjoy adventurous trips that much. I prefer strolling around in the city (yes, I do enjoy cities) or walking along the beach. I realized how much I enjoy looking at the architectures, finding a perfect place to sit and just enjoying the whole urban scenery, accompanied by a cup of coffee. Each city has its own sound and colour, and that's what I always try to hear and see everytime I spend some minutes to sit down.
I'm not a luxurious tourist, but I'm not a budget traveller either. I'm not really picky when it comes to food. I mean, I can eat something from the hawkers (as long as it's halal and clean of course). But when it is about accommodation, I can say I'm quite fussy, especially the bathroom. It has to be squeaky clean! I don't want to take a bath in a dirty bath tub after such a tiring day >.< Oh, back to food and beverages, when travelling, my money also always goes to beverages in the minimarket :p I love various tea and coffee and the easiest and the cheapest way to find them is in the minimarket like 7-11. A simple thing but somehow it makes my trip more fun hahaha.
For now, I wanna see the rest of Asia such as Korea, Hongkong, Macau, and Taiwan. I'm really saving hard for that! And as a reminder that I need to see the whole world, I bought this postcard at Singapore Art of Museum.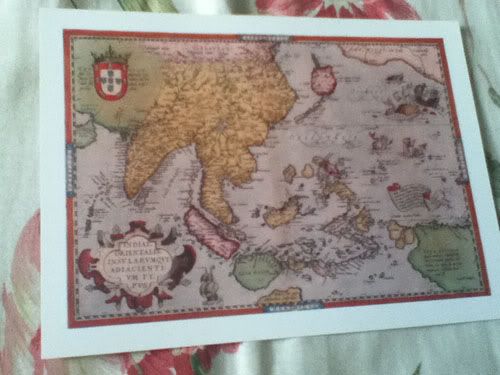 Cheers for more trips to come!